Religion plays a huge role in shaping everyoneR 17;s life. Religion is mostly considered sacred. Helping people find strength, inspiration and guidance. All over the world people are converting from one religion to another.
There are three main religions in Ghana; Christianity, Islam and traditional religions. Ghana is one of the countries that enjoys a high level of peace. One of the reasons is because its citizens are very tolerant and respect the fact that religious differences inevitably arise.
It is simply a beautiful sight as representatives of the country's major religions gather during Independence Day celebrations to pray for the nation's prosperity. Indeed, there is beauty in diversity.
Regardless of our religion, as Ghanaians we have discovered the need to love one another, so here are some of our celebrities who are Muslim. Some of them are clear while others are not so obvious, follow me, let's go up:
Abedi Pele and Sons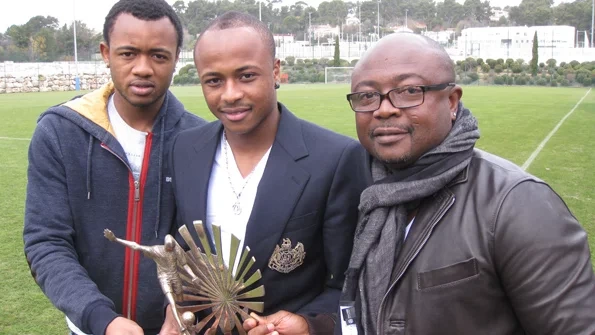 Maestro Abedi Aev Pele is a devout Muslim. He was born into a Muslim family and attended secondary school in Tamale in Ghana. It is frequented by other Muslims during Eid al-Adha.
During Eid al-Adha, a religious holiday celebrated by Muslims around the world to mark the end of the monthly fast from sunrise to sunset in the month of Ramadan, Andre Ayu most often appears on social media in a Jalabi dress to live with Muslims in Ghana and surrounding areas of the world. He is the first son of Abedi Pele.
Jordan Ayu is the younger brother of Andre Ayu, and during Eid celebrations he often sends his goodwill to Muslims around the world through his social media addresses.
Mubarak Wakaso
He acted in China for Jiangsu Suning F.C. He was born in Tamale and is also a devout Muslim. He often visits Ayews' house during Eid al-Adha celebrations.
Salma Moomin
Moomin's contribution to the Ghanaian film industry has been gratifying. Some of the awards he took home include; Best International New Actress at the 2014 Papyrus Magazine Actor Awards and Best Actress in a Leading Role at the 2009 Ghana Film Awards.
He grew up as a Muslim. He was born in Wa in the Upper Western Region of Ghana. He completed his education at Insaaniyaa High School.
Abdul Baba Rahman
He is a Ghanaian professional left back who plays for Chelsea. However, he spent this football season on loan from La Liga club RCD Mallorca. He was born in Tamale and is known as a devout Muslim. He has participated in clubs such as; Asante Kotoko, Greuther Förde, FC Augsburg, Schalke 04 and Reims.
He attended Al Makis High School in Navrongo, one of the most prestigious schools in the region.
Eunuch Nuhu Adams
He is a Ghanaian footballer who plays for German club Fortuna Düsseldorf. However, its parent club is TSG Hoffenheim. He is one of the most famous Muslims in the country. In Sala celebrations, he is often seen with Andre Ayu, Jordan Ayu, and Mubarak Vakaso.
Check out the video below: Sorry guys, the video can't be uploaded here, but you still watch the video on our telegram page. Click HERE to join our TELEGRAM CHANNEL and watch the full video.
Visit Our Website Xaccessmedia.co for Latest News videos &  Kindly Subscribe To Our Youtube Channel On Celebrity Millah TV To See More Viral, Educative & Exclusive Videos. 
Subscribe To Our YouTube Channel For More Videos On Celebrity Millah TV.
Thank you for reading this article. Please don't forget to like, comment, share and follow for more updates.
Disclaimer: The writers' opinions are their own and do not reflect those of XaccessMedia.co. XaccessMedia.co assumes no legal or other responsibility for the content's correctness. Please report any offensive content to us, and we will investigate it as soon as possible.